CONTEMPORARY MUSIC




Giorgio Astrei, Daniele Carnini, Omer Barash, Eliza Brown, David Collins, Caterina Di Cecca, Francesco Fournier Facio, Paolo Marchettini, Massimo Munari, Michele Paradiso, Stefano Pelagatti, Dimitri Scarlato and Domenico Turi have written compositions for Ardorè Duo.

Almost every concert, Ardorè Duo premieres a new piece. Most of them are especially written for and dedicated to the duo.


Paolo Marchettini Dialogo Nascosto

Image: Karl Blossfeldt; Urformen der Kunst
CLICK HERE

FOR THE COMPLETE REPERTOIRE
Nuova Consonanza, I giardini della Filarmonica Romana, Comporre Oggi, Istituto Polacco di Roma, Istituto Corelli, Milton Court, Borough New Music.

The ideal space for contemporary music is not too large. This helps people to feel part of the new artistic expression.



MODERN MUSIC
VINCENZO AUGUSTO MANNO

Ardorè Duo pays a great attention to the the Italian composers of the beginning of 20th Century. In collaboration with the Manno family, in 2015 released the recordings of Vincenzo Augusto Manno's
Works for violin and piano
.
RICCARDO MALIPIERO
Ardorè Duo, as a part of the Rest Ensemble, is workin on the rediscovery and valorization of Riccardo Malipiero's chamber music. Thanks to the collaboration with Suvini Zerboni, the duo is proposing
Riccardo Malipiero Violin Sonata (1956)
in the most important venues and festivals.
The aim of this project is to create a CD with the UK based label "Toccata Classics", entirely dedicated to Riccardo Malipiero.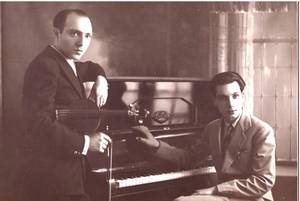 CLASSICAL MUSIC
Interpretation
Ardorè Duo's approach to classical music is fresh and deep at the same time. Even the most traditional repertoire pieces were once contemporary: this is what guide us to avoid any convention, in the respect for philology and aesthetic.

In this video Mozart Violin Sonata in e minor.
Ardorè Duo plays with passion and commitment. In this video Respighi Violin Sonata is played in the Music Hall of the Guildhall School of Music and Drama in London.
The lyric 2nd movement of Grieg Violin Sonata No. 3 is played on a Nicolò Amati violin (ex Collin 1669), at the Auditorium Giovanni Arvedi in Cremona.
︎
Tutto viene avvolto
da quel momento di sospensione
quando la parola si ferma sulla soglia
senza che neanche un raggio la contamini.
Paolo Scaramella Proietti
Pieces for orchestra
REPERTOIRE
Pieces dedicated to the Ardorè Duo



Daniele Carnini
David Collins
Paolo Marchettini
Massimo Munari
Michele Paradiso
Stefano Pelagatti
Dimitri Scarlato
Domenico Turi

L'arte della divinazione
Violin Sonata No. 2
Dialogo Nascosto
Ante Caudam
Pavane
Double II
Imperfect Suite
Tarantella d'acqua


Catalogue d'hommages (to Messiaen), by Giorgio Astrei, Omer Barash, Eliza Brown Caterina Di Cecca, and Francesco Fournier Facio (commissioned by Nuova Consonanza).


Contemporary Music
Guido Baggiani
Pier Paolo Cascioli
Francisco Coll Garcia
David Collins

Franco Evangelisti
Marco Quagliarini
Stefano Pelagatti
Domenico Turi
Nadir Vassena
Sfere Alterne
A little requiem
Four Iberian Miniatures
Violin Sonata No. 1, Violin Sonata No. 2
Oboe Sonata (vl version), Oriental Fantasy
Quattro Fattoriale
Ricercare II
Invenzione Concertata
Tre Aforismi
Torso II
Modern Music
Luigi Dallapiccola
Claude Debussy
Witold Lutosławski
Riccardo Malipiero
Vincenzo A. Manno
Olivier Messiaen
Goffredo Petrassi
Sergei Prokofiev
Maurice Ravel
Ottorino Respighi
Alfred Schnittke
Tartiniana II
Violin Sonata
Partita
Sonata per violino e pianoforte
Brani per violino e pianoforte
Thème and variations
Introduzione e Allegro
Violin Sonata No. 1 Op. 80, Five Melodies
Tzigane
Sonata per violino e pianoforte
Old Style Suite
Classical Music
L. van Beethoven
Johannes Brahms
Edvard Grieg
Felix Mendelssohn
W. A. Mozart
F. Schubert
P. I. Tchaikovsky

Violin Sonata No. 5 Op. 24
Violin Sonata No. 2 Op. 100, Violin Sonata No. 3 Op. 108
Violin Sonata No. 2 Op. 13, Violin Sonata No. 3 Op. 45
Violin Sonata Op. 4
Violin Sonata in E minor kv 203
Violin Sonata in A major Op. posth. 162, D 574 "Grand Duo"
Souvenir d'un lieu cher
---
Duo Ardorè - London, Rome